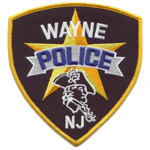 A Belleville New Jersey man has been charged with aggravated assault on a police officer after allegedly using his car to strike two police officers in Wayne, NJ.
The incident happened around 5:00 p.m. Two Wayne police officers were in a Hooters parking lot on Route 23 South when they saw the suspect sitting inside his BMW.
The police officers walked toward the suspect's vehicle and reportedly noticed marijuana in plain view in the backseat.
According to the officers, the suspect got frightened and suddenly put his car into reverse. He then slammed into the police officers and caused both of them to hit the ground.
The officers got to their feet, returned to their patrol car, and chased after the suspect. They were joined in pursuit by a third police officer, who followed the suspect through a number of municipalities, including Nutley, Belleville, and Newark.
The suspect eventually stopped at the intersection of South Franklin Avenue and Mill Street in Newark. When the suspect got out of his vehicle, he was hit by a passive car. A struggle then ensued between the suspect and a police officer, with the suspect temporarily freeing himself by shoving the cop into harm's way. Although the police officer was nearly hit by an oncoming Essex County sheriff's car, he managed to avoid serious injury.
Police were eventually able to apprehend the suspect.
The 22-year-old suspect, who resides in Belleville, was subsequently charged with several crimes, including aggravated assault on a police officer, assault by auto, and eluding police. Additionally, the suspect was charged with simple possession of marijuana because Wayne police allegedly found a small amount of pot in his car.
Wayne NJ police also issued the suspect citations for numerous traffic offenses.
After the suspect was arrested and charged, he was transported to the Passaic County Jail. He was being held at the correctional facility in advance of a bail hearing in Passaic County Superior Court in Paterson, New Jersey.
For further information about this case, read the NorthJersey.com article entitled "Belleville Man Accused of Hitting Two Wayne Officers with His Car Appears in Court."